Soul Worker Maintenance 4/20
04-19-2016, 08:26 AM
Hello Everyone,
Here is the Maintenance for 4/20, the first one since Official Release.
Hangame (Website) Maintenance: 2:00 ~ 12:00 JDT
Game Maintenance: 1:30 ~ 15:00
Maintenance Notes
New Raid "Junk Hive" will be implimented.

More Game Optimization...

Junk Hive Event (Rewards will be given based on the following conditions. Each condition is independant and a reward is given if you do at least one of the conditions)
Play Junk Hive Once

Clear Junk Hive 5 Times

Obtain a Top 100 Clear Time from completing Junk Hive.

More information will come when event is active.

AR Card Distrubution: Check here

---
Sources: Maintenance
Soul Worker HQ Translation Release v1.00
04-17-2016, 06:28 AM

The English Patcher from the SWHQ Team has been released.  We are currently working to further complete the translation as time goes on. In addtion, the patcher will also support Korean, Russian, and other languages in the future.

If you are interested in development and further translation of this patch, be sure to contact @Casey and @Miyu on the SWHQ Discord Chat Server (Click Discord Chat on the Top of Page to Access it). We hope to make a very accurate and very usuable patch. Be sure to provide feedback for any spelling, grammer, and other mistakes

Translation Patch Release Thread: Soul Worker HQ Translation Patcher
Discuss the English Patch: Soul Worker HQ English Patch



Progress:
UI: 99% (needs revisions)

Items: 5% (some item names)

Achievements: 60%

NPC Names: 100%

Buffs: 60%

Skills: 0%

Quests: 0%

Story: 0%

Other: 2%


Sincerely,
HQ Staff
Happy Hour Event
04-14-2016, 09:33 PM




Happy Hour Event





Duration: April 14 to April 20 (JDT, 7 Days. 3 Times per Day)


①: 13:00~14:00 JDT | 12AM - 1AM EDT
②: 20:00~21:00 JDT | 7PM - 8PM EDT
③: 22:00~23:00  JDT | 9 PM - 10PM EDT
No Happy Hour on April 14



Bonus: 30% EXP Boost during the provided times.
Integration Level Event
04-14-2016, 09:29 PM

Integration Level! Start!
Duration: April 13 (Wed) 15:00 - April 27 (Wed) 11:00 JDT
Description:
Players will create a combination of four characters on an account. The character's level will add up to obtain certain rewards.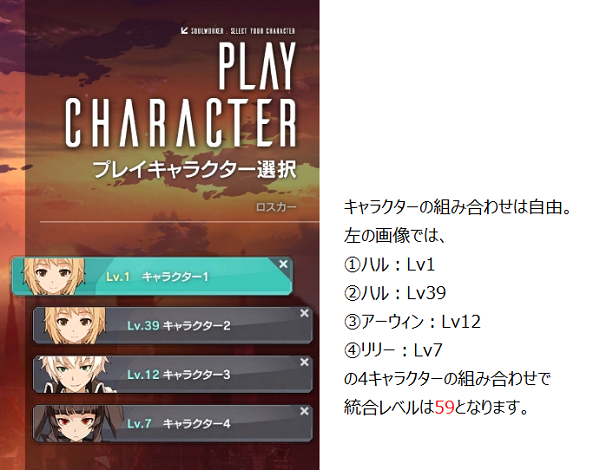 For example: The characters levels are added in the order. 1+36+12+7=59
Requirements:
Total Character levels must be 50 or more overall.
Reward (Given out Mid-May):
Tier 50+: 200 S Coins
Tier 50 - 79: Event Title (No Suffix) 
Tier 80 - 119: Event Title (No Suffix)
Tier 120- 149: Event Title (No Suffix)
Tier 150: Event Title (No Suffix)
Regarding the April 12 Notice
04-12-2016, 09:50 PM
 

Hello Everyone,

I was told by many people and read some sources that a massive global ban on international players. and I can confirm that the notice has nothing to do with bans regarding international players. The notice was an apology for people not able to login during 4/10 18:09~21:20 due to a glitch within LG/Hangame security system. The system was intended to ban bots and gold sellers from international regions. However, the system had put some users on false positive and prevented players from login. There was a public apology and an AR Card was given in terms of compensation.

Overall, there are NO bans given to international players. It should be safe to login after the maintenance.

Translation by: takisse
Source: LG/Hangame (Original Notice)

Sincerely,
HQ Staff
Soul Worker Maintenance 4/13
04-12-2016, 10:53 AM
Soul Worker will be down for maintenance on 4/13 JDT.
Time: Game: 10:00 ~ 13:00 JDT (4/12 9 PM EDT ~ 4/13 12 AM EDT | 6 PM PDT ~ 9 PM PDT)
Bug Fixes: 
NPC "Kainbarrel" was impossible to progress.

Broach set effect was lost under certain circumstances.

Seach function in the Item Mall caused SW to force close.

Inserting a broach that is deposited in the bank onto a costume is not working.

Other Notes:
Future Maintenance will be occuring every Wednesday 10:00 - 15:00 JDT.

Source:

LG/Hangame

Sincerely,
HQ Staff
Soul Worker Giveaway Winners
04-11-2016, 05:57 PM
The winners of the Soul Worker Official Release Giveaway. Here are the winners:
Nemo

CosmicCricket

Kyle

Grenadersan

MikuNyaa

How to recieve the code:
Message @Casey on Discord.

@Casey will give you the code.

Enter the webmoney code into the account.

Congratulations to all the winners. We will do more giveaways in the future, make any suggestions on future events by PMing Casey.
Welcome, Guest
You have to register before you can post on our site.
Online Users
There are currently 44 online users.
» 0 Member(s) | 44 Guest(s)

Forum Statistics
» Members: 6,895
» Latest member: Anzhel
» Forum threads: 643
» Forum posts: 2,188

Full Statistics
Latest Threads
SW-JP Maintenance 09/20 (...

Forum: Maintenance Notices
Last Post: Asai


Yesterday

, 08:37 AM
» Replies: 0
» Views: 32
Soul Worker coming to SEA

Forum: General Discussion
Last Post: Zhixce


Yesterday

, 05:55 AM
» Replies: 8
» Views: 20,402
How fix black names and m...

Forum: Guides, Resources & Tutorials
Last Post: elsrock
09-18-2017, 11:05 AM
» Replies: 1
» Views: 492
Help with starting the ga...

Forum: Help & Support
Last Post: Asai
09-18-2017, 08:43 AM
» Replies: 1
» Views: 38
What is the letter rankin...

Forum: Guides, Resources & Tutorials
Last Post: Asai
09-18-2017, 08:35 AM
» Replies: 1
» Views: 62
바카라사이트-┗ ø【 HCR333.COM 】ø...

Forum: Site Discussion & Feedback
Last Post: bettersong017
09-18-2017, 06:21 AM
» Replies: 0
» Views: 22
바카라싸이트-┗ ☁【 HCR333.COM 】☁...

Forum: Site Discussion & Feedback
Last Post: bettersong017
09-18-2017, 06:18 AM
» Replies: 0
» Views: 17